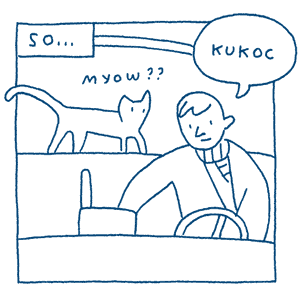 I am very happy and excited and honored to announce that on Friday night I won the Maisie Kukoc Award for Comics Inspiration! The award is presented every year at Guapo Comics in Portland in conjunction with the Stumptown Comics Fest which is happening this weekend.
This came as an absolute surprise. My wife Minty (who was also a nominee because she makes brilliant comics) and  I have been forgoing comics shows this year to stay home with our new daughter, Sally. So I'm not at Stumptown and I wasn't present at the award presentation. In fact when Jesse Reklaw called to put me on speaker phone at the award ceremony Minty and I had just taken a break from watching 30 Rock to change a diaper. Did I mention that I hadn't been expecting to win?
Why? Well it was a pretty impressive set of nominees this year. Besides my talented wife who writes for the Cartoon Network and whose Salad Days #1 really needs a Number Two sometime soon, there were those two guys who have both been in Kramers and D&Q Showcases. Dan Zettwoch took his dad's reminiscences of  his time working for the phone company in the 1970's and made them into the mini-comic Tel-Tales. Add to that a screenprinted cover printed on an actual old Bell Systems punchcard! This is a guy who puts a daunting about of work into his mini-comics even when they never make it out into the world. And Kevin Huizenga, Good Lord. He's the author of Ganges which stands out to me as just the best comic of the past decade. I genuinely admire everyone who was nominated.
I'm always overjoyed to be nominated for these things. It's a tangible sign that the work you produce has an impact on people, and really that's the whole point isn't it?
Anyway, I feel bad that I was a moron about receiving the news. I wish I could do it over again and tell everyone that — well even now I can't quite summon up the words that would convey how happy and surprised I am to find that you all would actually vote for my comics. It's made me very very happy. I just wish I could have been there. It would have made it all a little more real.
Maybe some shy persons can be wrenched out of their comfortable domestic routine with some unexpected news  and over speaker phone address a crowded room that they can neither see nor hear with aplomb, but this one cannot. Sorry I was a dork. I love you for giving me this award. And thank you to the sponsors of the award who put together the prizes!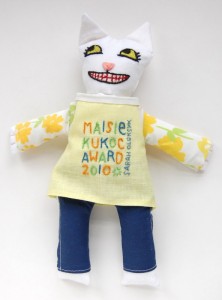 Speaking of prizes, did they make another one of those great handmade trophies like the past ones made by Andrice Arp (pictured) and Allie Tiedman? That's what I really want out of this. Those trophies have been coolest thing about this award. I'm not sure what the deal is. To say the award publicized in a low-key manner would be an understatement. Let's hope it's not an indication that the Kukoc might be fading away in the future. I have respect for all of the sponsors. You all have organized a great, unique award. You've earned yourself some horns, go on and toot them!
Toot them now and in the future. Because I can think of a whole lot of mini-comics artists who I have a great deal of respect for who also deserve this kind of recognition. I feel like I keep reading that minis and "floppy" comics are dead. At the same time I am reading a whole lot of great minis. I have a hard time finding the space to store all of the minis that I pick up at conventions. And it's not like they are exactly all that thick either. They are fine and worthy of celebration. Good luck to anyone out there doing their thing.
Update
My wish has come true! Greg Means sent me photos of this years trophy, made by Claire Sanders. Holy crap, it's beautiful!!!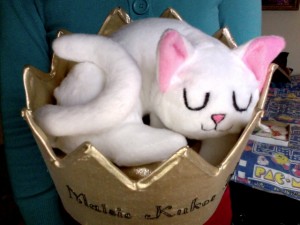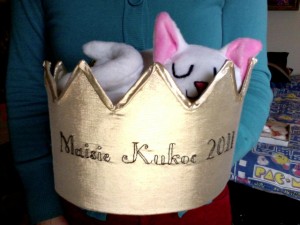 Here we have it, the latest issue of The Natural World. The covers are (mostly) printed, and after a little trimming, collating, folding, and stapling I should have a little stack of them in time for The Alternative Press Expo tomorrow morning. I will be there with my lovely wife Minty Lewis making sure that the weird and wonderful books of Secret Acres (table 433) get into the hands and minds of the discerning convention-goers.
So please stop by and check out their books, and if you're so inclined check out The Natural World #4 where Walter the mushroom hunter's adventures continue in a truly uncanny forest.
The Natural World #4 is also available for orders online.
For a while I was posting pages from my sketchbook on a regular basis. Not so much lately.
My drawing time has been devoted to getting the next issue of The Natural World finished in time for MoCCA in early April. Then it's off to the Stumptown show in Portland later in the month. Ah, the jet-set life of a self-publishing cartoonist! It's not bad at all actually.
So there won't be many posts here for at least another month. It's not due to dwindling enthusiasm for the endeavor; I just ran out of pages to post! If you enjoy the sketchbook drawings rest assured I will be cranking up the old Sketchamatic again once I return from the comics show circuit.
I'm also thinking of posting all of The Natural World online, but more on that in the future maybe.
See you soon!