Category Archives:
announcements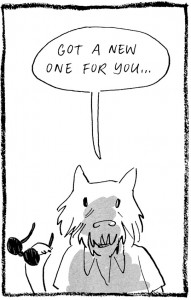 Things have certainly been quiet here on this website. After a bit of a hiatus, production has picked up at HQ however. And now we get to share a little bit of what's been going on behind the scenes.
This coming weekend I will have two comics debuting in two anthologies simultaneously on the two coasts of our fair land.
On the side of our country where destiny manifests itself, Tugboat Press will have a FREE comic book debuting at the Stumptown Comics Fest (table A-17). It's called Runner Runner and it features 26 different comics creators within its 32 pages. And it's free for Free Comics Book Day, but you don't even have to wait until the first Saturday in May. Nope. It's yours for the taking if you're in Portland this weekend. Free and no waiting, how great is that?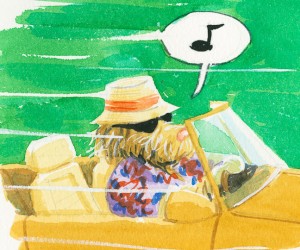 My contribution is a collaboration with my wife, Minty Lewis, who wrote a poignant story about Rocky Shuffleman, a terrier who's retired to Florida (Leisure Cove to be specific) and who's pretty good at staying busy. Not necessarily great at it, just pretty good.
If like Rocky, you live on the East Coast, then maybe you'll be stopping by MoCCA Fest. There at the Secret Acres table (M10) among many essential comic books, you'll find another brand-spanking-new comics collection, Sundays 5. This issue of Sundays was edited by Sean Ford and comes wrapped in an screen-printed cover also designed by Sean.

As of press time, I have only seen a preview video of the book. It looks like Sundays gets better with each issue. It's quite an impressive set of contributors. I'm honored to be included in both of these collections.
Where to find Runner Runner
Stumptown – Portland, OR 4/28-4/29 – Tugboat Press table
TCAF – Toronto 5/5-5/6 – Tugboat Press table
And check your local comics shop May 5th!
Where to find Sundays 5
MoCCA – NYC 4/28-4/29 – Secret Acres table
TCAF – Toronto 5/5-5/6 – Sundays table
MECAF – Portland, ME 5/20 – Sundays table
CAKE – Chicago 6/16-6/17 – Chuck Forsman & Melissa Mendes' table
SPX – Bethesda, MD 9/15-9/16 – Sundays table